GretaFlora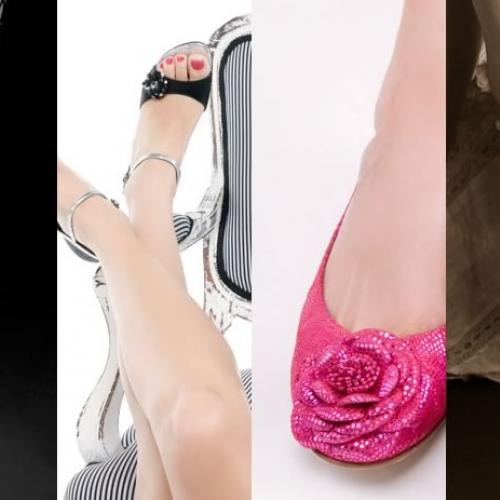 Cute Shoes, and comfortable.
How many glamorous pairs of shoes end the night in their owner's hands instead of on her feet because, exhausted and in pain, she prefers to forego elegance rather than stand one more second of pain? And yet there is no reason for discomfort to be a condition of being elegant and sensual: when it comes to making their products, some designers have comfort in mind just as much as glamour.
Such is the case of Florencia Méndez Christie and Greta Santolalla, owners of GRETAFLORA, a brand that started out making tango shoes for export but later adapted to the needs of the general public.
Before taking up this profession, Greta, trained in set design, advised leading clothing and shoe brands on product image and exposure. Flora, a textile designer, created the collections of a well-known local shoe brand. This background in art and design would later show in each one of their creations.
Tired of typical, boring, and aesthetically backward shoe designs, we decided to venture into the dance shoe market, and so we created GRETAFLORA. There was a need to refresh the style of the traditional tango shoe, and this was the focus of our enterprise.
An ultra-feminine and elegant design (typical of the 1940s), genuine materials (only cow leather and export-quality goat leather, no synthetic materials are used) and a traditional manufacturing process (manual and in limited series) are the fundamental elements that have made us stand out since we began the business in 2003.
From that moment on, we grew quickly thanks to the distinctive nature of our approach and also to the boom in the demand for shoes, which the phenomenon of "youth tango" has generated during the past decade.
It was not until October 2009 that we opened our first retail shop, located in the exquisite Palermo Soho district. In the beginning, we had targeted our sales to the foreign market, with a wholesale approach. But then foreigners began to recognize our label and arrived spontaneously at the show room wanting to buy for themselves. For this reason, we decided to open a store for the general public, with a living-room concept where our clients can relax, enjoy themselves and take their time to try everything on.
The response to our products was so positive, due to their design and comfort, that without looking for it, we had porteño women who do not dance coming in to buy dress shoes. This is how two new lines came about, Cocó and Bridal, especially designed for the evening-wear and bride markets. Then we created Anita, a line developed exclusively for a leading Italian tango shoe company in Milan, but which Argentinean women can purchase at the Palermo venue.
Currently, GRETAFLORA exports to Germany, Belgium, Finland, Switzerland, Holland, Italy, Greece, Russia, Japan, Canada and the US. The short and long-term goals of the company are to continue with the opening of new international markets and consolidating the brand's position in the main capitals of the world.
Without sacrificing the technical quality of the product, GRETAFLORA maximizes the aesthetic potential, guaranteeing comfortable shoes and happy feet all night long.